October 2, 2012 § 6 Comments
Scott Nicholson does spooky like no one else I know, so what better way to kick off the month of Halloween than with his novel-The Home and an awesome giveaway!
Enter the Rafflecopter to win your choice of a Kindle Fire, Nook HD, or Kobo Glo, as well as signed books and audiobooks in the Home for Halloween giveaway from author Scott Nicholson.
The giveaway celebrates the launch of paranormal thriller The Home. Experiments at a group home for troubled children lead to paranormal activity—and the ghosts are from the home's dark past as an insane asylum. In development as a feature, it's available in ebook at Amazon US, Amazon UK, BN.com, Kobo, and Smashwords.
---
EXCERPT: THE HOME
By Scott Nicholson
(From Chapter 10)
Starlene loved Group. The setting was perfect for teaching socialization skills while also gaining the children's trust. In group therapy, she could be a "facilitator," though she hated that word for it. A facilitator was someone who was structured and inflexible, who "empowered" others while not taking much personal risk. She thought of her job as more like "witnessing," showing others the blessings she'd discovered and which all could share in.
"Hey, guys," she said, looking into each face in turn.
"You're late," Deke said.
"And I apologize. Adults have to apologize sometimes, too, don't they, Freeman?"
Freeman winced, twitched one corner of his mouth, and said nothing.
"You going to make us talk about something, or do we just got to sit here for an hour?" Deke said.
"I think it's better when we get things out in the open," Starlene said.
"Because sharing is caring," Freeman said.
She ignored his sarcasm. Many placements came to Wendover with a wall around their hearts. You couldn't hammer through the wall; battering at it only made the wall stronger. Love was better. Love seeped through the cracks and melted the wall away, eroded its base until the stones crumbled. "We do care, Freeman."
Deke glowered at Freeman, then at Starlene. He looked around the circle, at the children sitting in their straight-backed chairs, making sure he had an audience. "Not all of us care, Freaky Freeman."
Starlene was about to quiet Deke, then decided the group dynamic might be more interesting if she let the children lead the discussion themselves. If only Deke's natural leadership skills didn't turn nasty so easily. Six years in therapy, according to the case file, and Deke was no closer to adjusting to society than he'd ever been. Still, the Lord and her professional obligation required her to have hope for him.
But patience was a demanding virtue. That was one of the warnings that her Psych teachers had burned home, that occasionally you'd feel like slapping little Johnny across the face. No matter that he had been abused and suffered a neurochemical imbalance and was diagnosed with an adjustment disorder, you sometimes had to wonder if a particular brand of vermin was, and always would be, a rat.
---
February 7, 2012 § 3 Comments
FREE Two Days Only: A Vampire Novel with Actual Bite!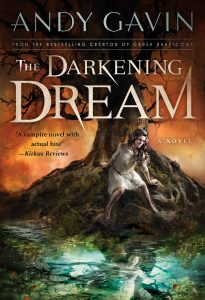 As the modern world establishes itself and pushes the supernatural into the shadows, the supernatural fights back.
The Darkening Dream
is a chilling new dark fantasy novel by Andy Gavin, creator of Crash Bandicoot and Jak & Daxter, that has received rave reviews on Amazon and Goodreads and is FREE for two days only on Amazon Kindle (February 7th to 8th)! Download your FREE copy here:
http://amzn.to/yTvZPG
Long-time readers of dark historical fantasy (Tim Powers, Guy Gavriel Kay, Katherine Kurtz) will appreciate the weaving together of mythology, occult, and religion, while younger readers and fans of HBO dramas (True Blood, Carnivàle) or urban fantasy (Laurell K. Hamilton, Kim Harrison, Jim Butcher) will be drawn to the twisted imagination, graphic action, and romantic tension.
About The Darkening Dream
Even as the modern world pushes the supernatural aside in favor of science and steel, the old ways remain. God, demon, monster, and sorcerer alike plot to regain what was theirs.
1913, Salem, Massachusetts
– Sarah Engelmann's life is full of friends, books, and avoiding the pressure to choose a husband, until an ominous vision and the haunting call of an otherworldly trumpet shake her. When she stumbles across a gruesome corpse, she fears that her vision was more of a premonition. And when she sees the murdered boy moving through the crowd at an amusement park, Sarah is thrust into a dark battle she does not understand.
With the help of Alex, an attractive Greek immigrant who knows a startling amount about the undead, Sarah sets out to uncover the truth. Their quest takes them to the factory mills of Salem, on a midnight boat ride to spy on an eerie coastal lair, and back, unexpectedly, to their own homes. What can Alex's elderly, vampire-hunting grandfather and Sarah's own rabbi father tell them? And what do Sarah's continuing visions reveal?
No less than Gabriel's Trumpet, the tool that will announce the End of Days, is at stake, and the forces that have banded to recover it include a 900 year-old vampire, a trio of disgruntled Egyptian gods, and a demon-loving Puritan minister. At the center of this swirling cast is Sarah, who must fight a millennia-old battle against unspeakable forces, knowing the ultimate prize might be her very soul.
"A vampire novel with actual bite." ~The Kirkus Reviews
"Mr. Gavin has brought something refreshingly new to a genre now suffused with poorly-concealed bodice-rippers which have more in common with Fabio than Bram Stoker: depth. His big baddies are scary, not romantic interests, and the added religious lore is complex and engaging. Don't expect another Twilight — the story can get downright creepy, so be prepared for a return to the old horror sensibilities of supernatural fiction." ~Amazon Review
"With Mr. Gavin's video-game pedigree, I was expecting something aimed squarely at the 18-25 year old fanboy contingent; what I got in The Darkening Dream was something wholly unexpected: A period novel with a female protagonist, a crash-course on Judaism in the colonial years, and multi-layered series of plot arcs featuring a crazy cast of natural and supernatural characters populating 18th Century Colonial America." ~Amazon Review
"…A perfect blend of mystery, magic and myth. A grown-up Grimm's fairy tale…emphasis on grim." ~Amazon Review
Cover links can be found at: